The Brighton Erotic Boudoir is a kinky play space complete with a beautiful bedroom with mirrored ceiling, flat screen television, DVD player, sensual colours and luxury wet room. The medical room with a selection of both vintage and up to date toys, fully equipped Dungeon and more. Perfect for a long sexy weekend in the hub of the UK's most sexually liberated city, Brighton. Close to all the other local delights it has to offer.
Expose your mind, body, heart and soul to the sensory experience which is The Brighton Erotic Boudoir, which is now open to couples wishing to explore and fulfil their deepest, darkest desires…
Since the reign of Prince Regent, George IV, when he made the city his home in the late 18th century, Brighton has been known as a mecca of escape, decadence and debauchery. Today, still heralding the Pavilion spires and candy-coloured architecture, Brighton is famous for its colourful, eclectic lifestyle and cutting-edge culture, alongside it's 'kiss-me-quick' stag and hen party appeal.
Now Brighton is about to take the meaning of 'dirty weekend' to a whole new level.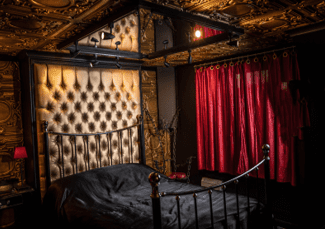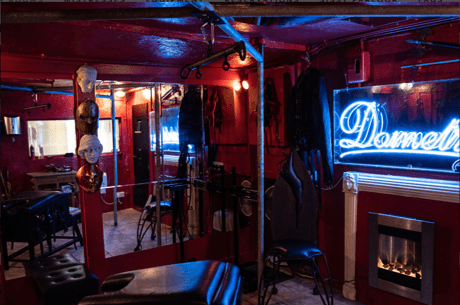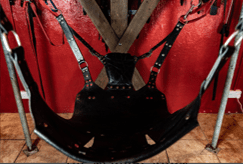 AVAILABLE EQUIPMENT
4 suspension points with Leather Sling
St Andrews CrossInverted Suspension CapabilitiesIsolation cupboard with inspection hatchesUnderground Interrogation CellFetters Fucking BenchMains Powered Sex MachineFetters Leather Strait JacketAnal HookViolet Wands with range of electrodes *E-Stim Set with electrodes & probes *Leather HoodsRubber Hoods
Latex Restraint Catsuit
Cock Torture with Ankle Cuffs
Gas Masks with breathing bags and tubesPowerful Doxy Body WandFull range of leather floggers and paddlesFull selection nipple clampsBall GagsLarge collection of canesCropsPaddlesHandcuffsBlindfoldsGag's including bit, ball, piss, and ring.Milking Machine *Large Range of leather ankle and wrist cuffsHeavy duty latex catsuits
Leather and rubber collars
Humblers
Pegs
Rope
Steele And Glass Probes
Dildos
Butt Plugs
Leather Strap-On Harnesses in all sizes
Website: https://brightondungeon.com