Every month, LAM offers three workshops on kink-related subjects.
These are usually included in the admission price, but due to current Covid regulations we have had to make them advance ticket only and to limit the numbers to 50 people per session.
Advance tickets are available from https://buytickets.at/lamevents/559876.
Workshops this month (September 5th 2021)

At 1:00pm we have our Newbie Meet and Greet.
The perfect way to settle those nerves. The crew will outline the do's and don'ts and give you guidance and advice on how to get the most out of LAM. There will then be a tour of the venue led by members of our amazing crew who will be happy to answer any of your questions.
2pm – "Healthy Mental Practices" – Presented by The Kink Shrink
This is a regular discussion-based workshop that is an open Q&A around the psychology of and around BDSM, relationships, mental health for BDSM practitioners, and anything else that affects you.
Feel free to bring in a question to be covered (maybe anonymously), bring a question or topic and then we discuss what's brought up.
Topics vary and cover such things as drop, setting a scene, dealing with anxiety and how to re-spark things, "why am I into this?" – basically anything you can think of that is related to kink and psychology.
The Kink Shrink is a practising therapist with a private practice, and has been part of the kink scene for many years so she has lots of experience and knowledge, and a lot of stories. She can be very funny too!
Please come grab a seat early as it's often standing room only in this one!
4pm – Workshop – Safer dating with Madame Zak of Dirty Sexy Words –
SAFER DATING with Madame Zak
Writer, book dealer and fetish scene veteran Madame Zak offers some handy hints on risk reduction and warning signs.
Want to keep yourself reasonably safe without spoiling all your own fun? Improve your chances of doing that.
Our workshop room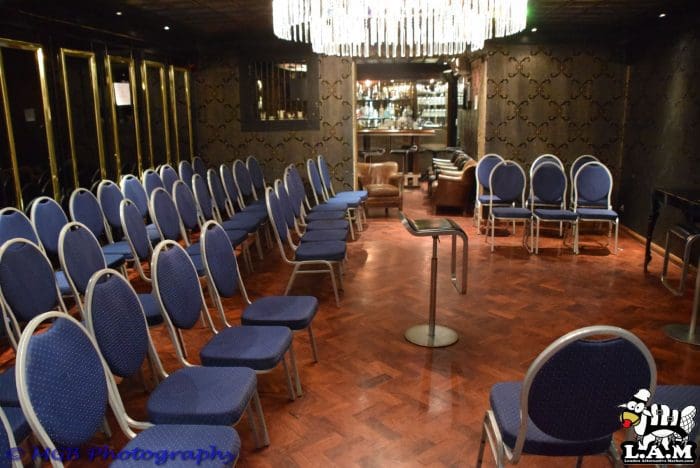 Workshops are held in 'the vault', a luxurious lounge that was once the high security area where gold and other valuable items were stored. With one-metre thick concrete walls and heavy steel doors, this is one area you wouldn't want to be accidentally locked into!

After party
At 7pm the vault is transformed into a quiet rope and bondage area for the after party, complete with a suspension cube and soft matting for rope play.